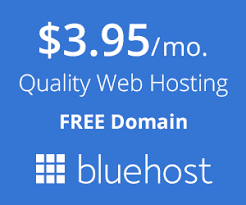 Are you a teacher looking for resources to help you with your curriculum? Do you need help finding the right plugins for your blog? If so, you've come to the right place! In this article, we'll provide you with 20 must-have plugins for educators.
These plugins can help you with everything from creating interactive content to tracking student progress. Whether you're a new teacher starting out on your blog journey or an experienced educator looking for new ways to improve your work, these plugins will be a valuable addition to your toolkit.
Let's explore some of the basic requirements, along with the extras that turn your learning website into something special:
Course creation, which includes options for uploading a variety of file types such as videos, PDFs, links, and other information. It's critical to have a good course page creator. You simply insert your course content into a template and press the Publish button.• Information on course progress to show your pupils how well they are doing. This is necessary to keep users motivated and serve as a reward.
Student registration and management, allow you to keep track of how many students are enrolled in your courses and collect fees depending on memberships.
Content dripping is a technique for gradually revealing parts of the course materials as students advance through the course.
Quizzes and examinations to assess how well students have received the subject. Many schools utilize quizzes to evaluate who is qualified for a class, but they're also a wonderful method to set benchmarks for when the next chunk of knowledge is introduced.
BuddyPress and bbPress connections allow users to create student profiles and chat and forums with other students and teachers.
Tools for financial marketing — Affiliate programs, commission systems, and coupons are examples of these. The idea is to persuade more people to enroll in your courses by offering incentives and spreading the word.
Automated emails to improve the incentives by providing students with a more tangible way to assess how far they've come.
Excellent payment gateway support, allowing you to be more flexible in your study. You may discover that one payment gateway has cheaper prices or is not available in your region.
Gamification and certifications – These are rewards that appear after a certain activity or course is completed. Because consumers can print them out or simply feel good about themselves when something is unlocked, badges and certificates are typically preferable to email confirmations.
Homework submission and grading choices that are simple to use. On most platforms, sending out assignments isn't difficult, but are students able to give back homework without difficulty?
Let's compare some of the great WordPress LMS plugins so you can choose the one that best suits your demands.
LearnDash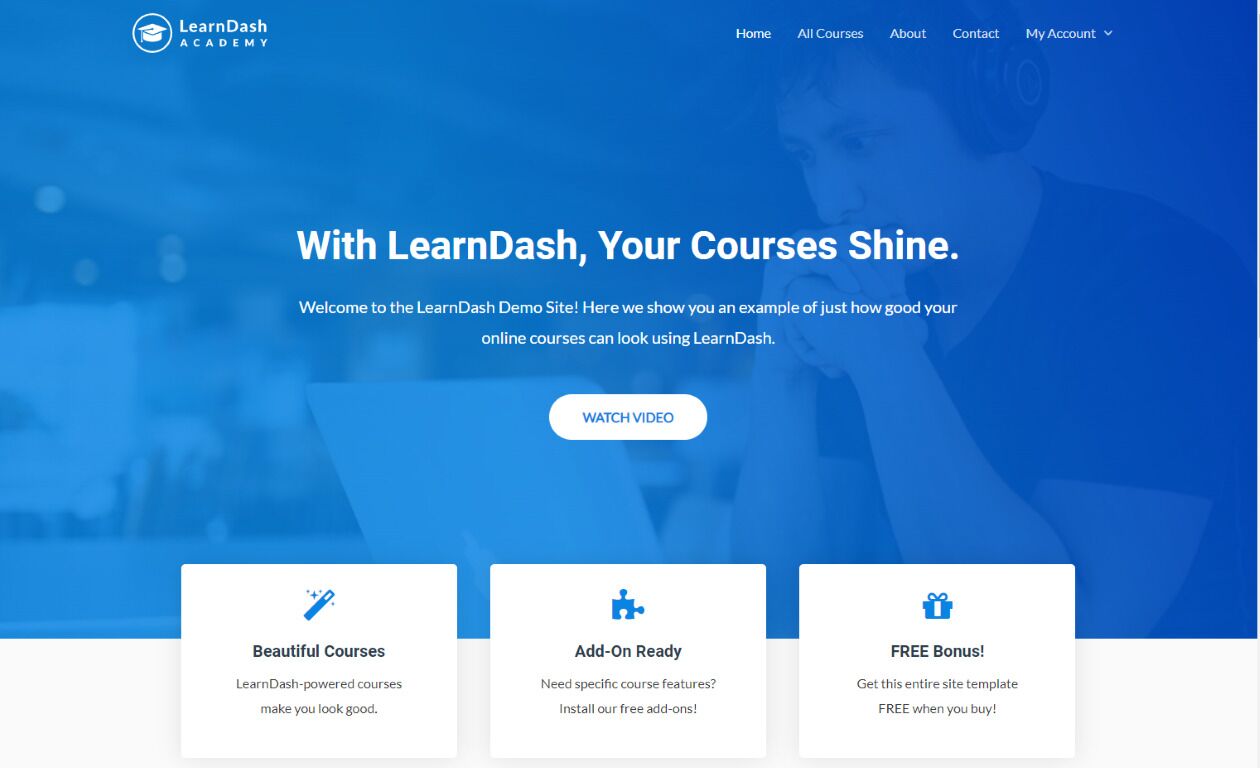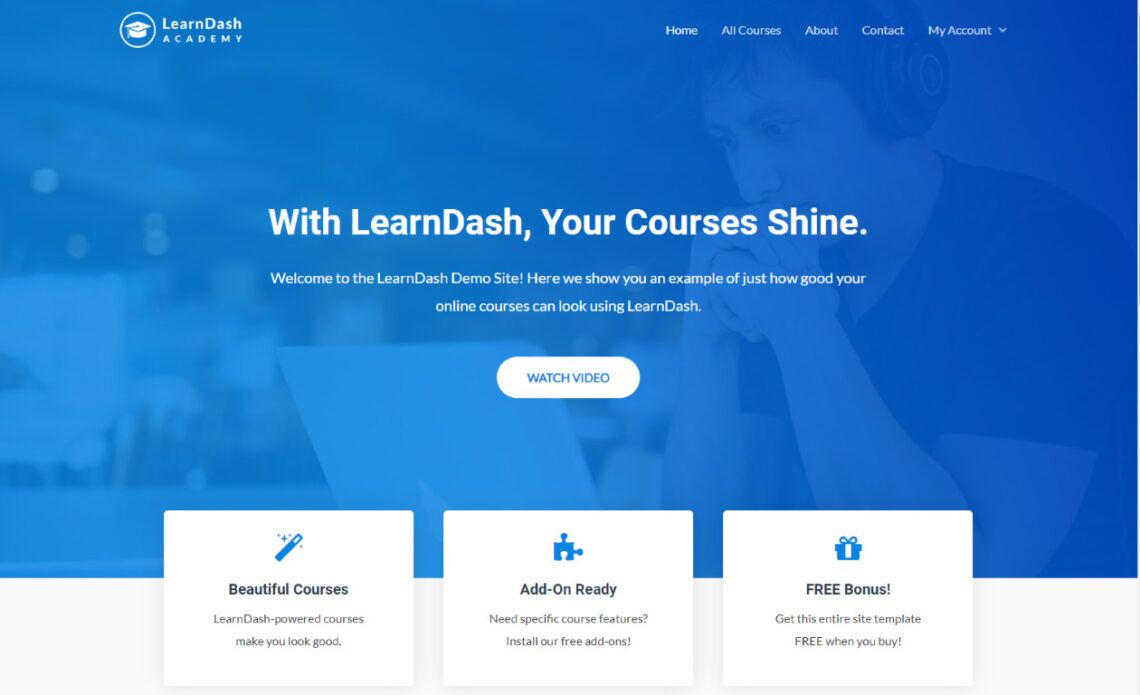 LearnDash is a WordPress plugin that turns your site into a comprehensive learning management system (LMS). You can develop and sell courses in minutes, track user progress, send certificates, give points and badges, and much more. LearnDash is the WordPress LMS plugin for you if you're serious about giving online courses.
It allows you to build an unlimited number of courses, add an endless number of lessons and subjects, quiz your students, assign homework, and so on. It also has built-in functionality for charging one-time or recurring access fees, as well as advanced features such as content dripping, course prerequisites, and more.
Overall, when it comes to WordPress LMS plugins, it's unquestionably one of the best. And in our LearnDash hands-on review, we'll go over everything in detail to help you determine if this plugin is appropriate for you.
Pros
The Most Important Features in This WordPress LMS Plugin has a feature that allows you to construct multi-tier courses, where you may divide the courses into different levels of difficulty. You might wish to include quizzes and different lessons along the route, for example.
Provides tools for drip-feeding content on a set timetable. You may also include lesson timers to guarantee that each lesson is completed within a particular amount of time.
There's no need to use a forum plugin because LearnDash already has dynamic forums built in.
LearnDash provides your students with a gradebook as well as course points when they complete a section of the course. This complements the awards and badges well.
Several monetization solutions, like as a shopping cart, memberships, subscriptions, course bundles, and course licenses, can help you market your courses.
LearnDash offers extensive reporting and automated email notifications.
Allows for user-profiles and group management–ideal for any group projects you want to assign.
Most media kinds, including videos, audio, photos, Adobe Captivate files, and Google Docs, are supported by LearnDash.
If you want to run LearnDash on a network, it's also multisite enabled.
The premium Front-End Course Creation add-on allows users to create their own courses on your WordPress site.
Cons
The number of built-in payment options is limited.
There are only a few built-in membership options.
Memberpress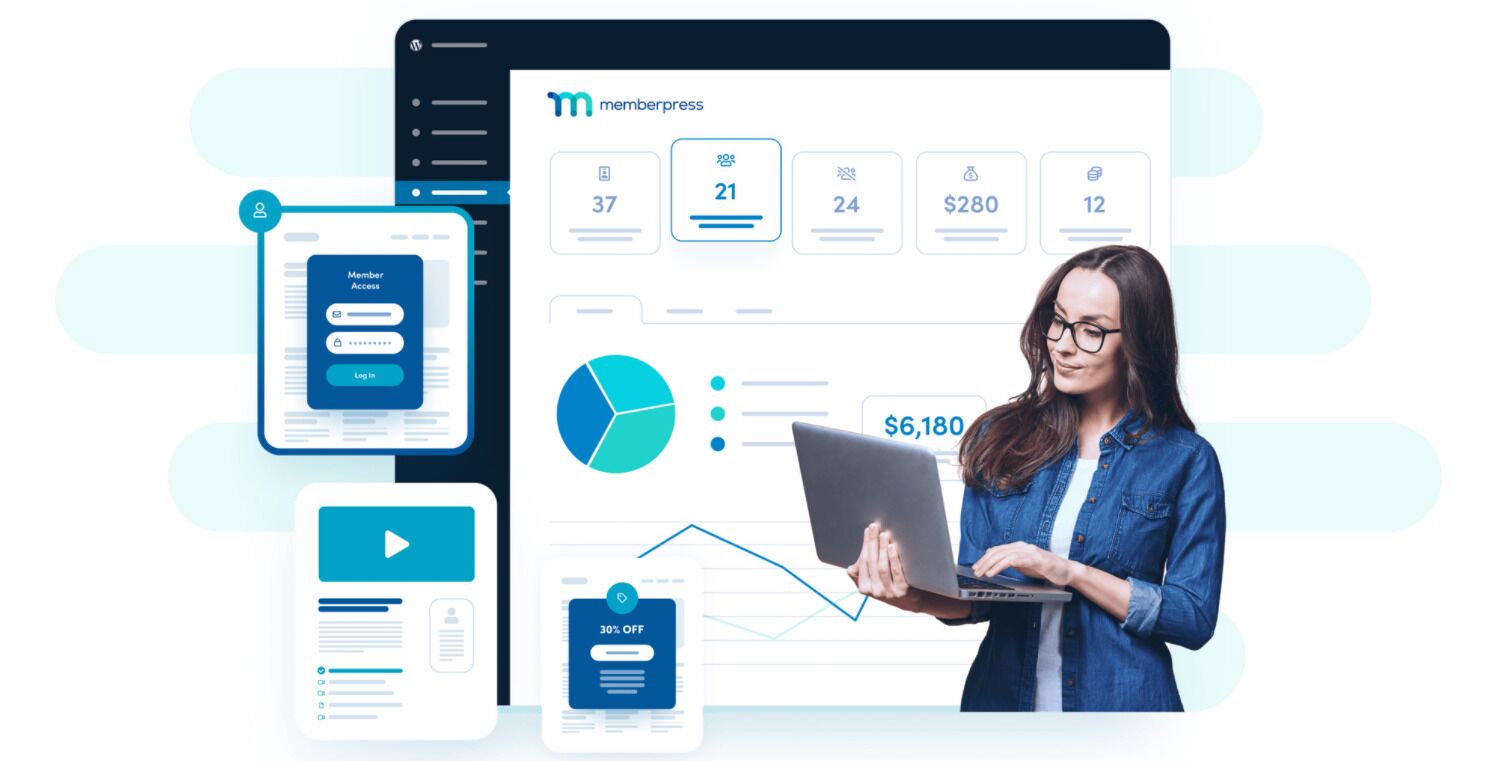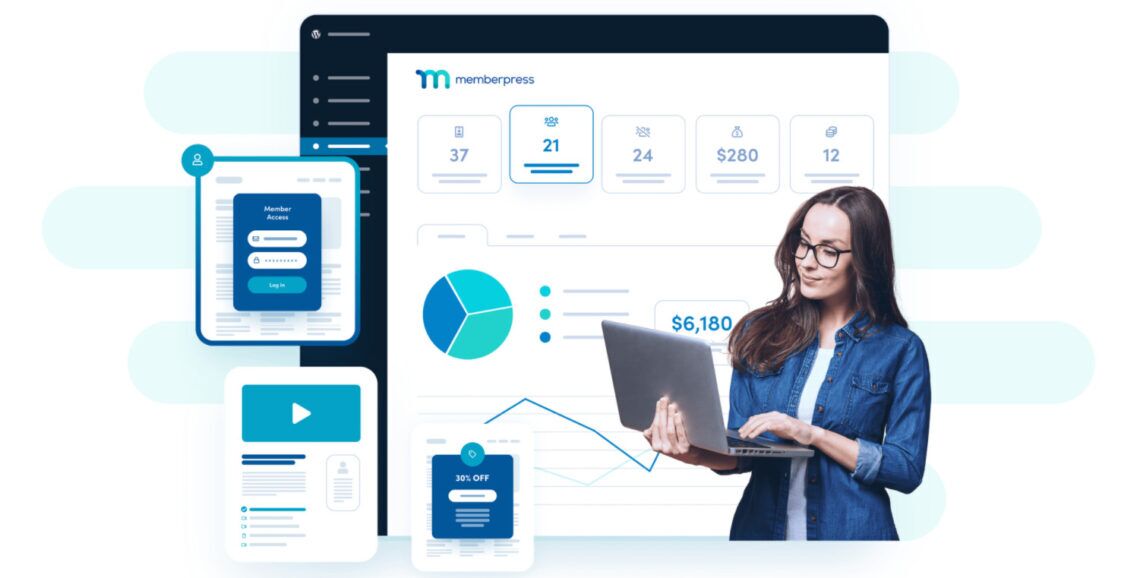 MemberPress is the most powerful WordPress membership plugin available, and it has built-in capabilities that make it simple to build, manage, and even sell courses online.
It includes a special Classroom Mode, which eliminates the need to spend many hours building your online classroom. It is MemberPress's responsibility to handle the design, ensuring that your course always looks fantastic and has the highest completion rate possible.
The easy drag and drop interface allows you to quickly put together your course syllabuses. It enables you to create courses, themes, and categories, as well as embed videos, photos, and other media.
They've designed their course builder on top of the WordPress block editor, which makes it really simple to use even for complete novices.
Students' progress can be promptly tracked by the site administrator and instructor, allowing them to assess how far they are from from completion.
If you want to offer free courses or accept money for paid courses, you can do so with MemberPress. You can also build several courses, each with its own set of subscription options, and manage them all from a single central dashboard interface.
Pros
Set up is simple and user-friendly.
There are several excellent tailored membership levels available.
This feature enables users to create any number of membership levels they like.
The availability of customizable content dripping, which is a time-release feature and associated services.
Integration with a variety of email retailing providers as well as other devices is available.
Coupons that are highly tailored and include additional features.
Affordability of segmenting the tiers of membership based on the group's accessibility
Setup is simple and quick.
Integration with all major software and platform vendors is available.
Cons
When it comes to customizing the registration and login forms, there are certain difficulties.
BuddyPress

Buddypress is a plugin for WordPress that allows you to create a social networking site for your blog or website. Buddypress includes features such as user profiles, groups, forums, and blogs. You can also use Buddypress to connect with other social networking sites, such as Facebook and Twitter.
Pros
It can easily adjust to the users' demands. So whether they require more features or just want to use the core tools, BuddyPress has them covered.
Allows you to add third-party addons. This is useful when developers need functions that the plugin doesn't provide natively. This allows webmasters to create more interactive, functional, and engaging communities.
BuddyPress, like other online community platforms, lets members create profiles with customizable visibility settings. Those who wish to remain anonymous can choose to reveal only the bare minimum about themselves.
The plugin allows people with diverse interests to communicate within the main system by creating groups within groups. This allows people to interact in smaller circles while yet being part of a broader community.
BuddyPress' developers recognize that not everything needs to be discussed in a group, therefore it allows users to communicate with their peers outside of groups or public spaces. They can add users as friends, allowing them to privately message each other.
The BuddyPress community is full with people eager to help and advise their fellow users. Directly from the community page, developers can ask for or give solutions.
Cons
One issue that BuddyPress users may face, particularly WordPress users, is compatibility.
Some features appeared old and outdated, and some things were a little unclear.
BuddyPress has no true competitors when it comes to WordPress community building.
There isn't any built-in media uploading.
LearnPress


LearnPress is a WordPress plugin that lets you build a powerful curriculum management system. Courses and content can be created in the same way they are on commercial learning management systems. LearnPress allows you to create courses, lessons, and quizzes, as well as track how your content is used. LearnPress is open source and GPLv2-licensed. A grade book is available as an add-on for the LearnPress plugin.
Pros
Easy to use – the plugin is easy to install and use, even for beginners.
Lots of features – the plugin comes with lots of features, including support for quizzes, polls, and surveys.
Customizable – you can customize the look and feel of the plugin to match your website's design.
Mobile-friendly – the plugin is mobile-friendly, so your students can access it from their smartphones and tablets
Cons
LearnPress, however, falls short in some areas of assistance. Support, a forum, and documentation are all available. The documentation is difficult to come across, and there are just three articles in the knowledgebase on LearnPress.
Tutor LMS


Tutor LMS is a complete, feature-rich, and robust WordPress LMS plugin that makes it simple to design and sell online courses. This learning management system's features meet all of the criteria for a fully functional online course marketplace. Tutor LMS is the greatest free WordPress LMS plugin because it allows you to build difficult and engaging quizzes, interactive lessons, sophisticated reports, and metrics. Without having to write a single line of code, manage, administer, and monetize your education, online school, and online courses.
Pros
Frontend Course Builder – An intuitive drag-and-drop backend course builder. But it doesn't end there. It also has a frontend course creator. This one lets you see how your site looks as you build courses. Both frontend and backend have the same functionality. Admins don't even need to go backend to publish a course. Simply click "Post Course" to publish your course.
Quiz Maker – The quiz design process is vital to your course's success. Students enjoy tough and interactive quizzes. Tutor LMS introduces ten unique question kinds.
Analytics & Reports – Numbers help the business. Your site's data help you enhance it. Tutor LMS has a unique Tutor reports addon. Enabling it provides a wealth of data for analyzing your course performance. Many factors in Tutor LMS create reports. You can search for course analytics by time. It's also possible to search for a specific date's enrollment.
Unlimited Course Instructors – A service like Udemy or Lynda has various instructors for courses. Having a variety of lecturers keeps students engaged and makes courses more useful. Just enable the Multi Instructor addon. When creating courses, you can add as many instructors as you like.
Assign Student Tasks – Tutor Assignments is an addition for Tutor LMS. With this extension, you can assign to as many subjects as you like. The addon, like the plugin, is well-organized. There are fields to let you assign tasks, just like in a classroom.
Provide Lovely Certificates – The certificate is the best component of any course for any student. Multi-template Tutor Certificate addon Your Authorised name, Institution name, and signature can be added to the template.
Cons
Tutor LMS is simple to use and has gorgeous pre-built templates for all pages, but they are not particularly customizable (without perhaps extensive CSS coding). Aside from the fact that their pre-built template is quite similar to Tutor's site design style, this isn't a big deal.
The School Management
Education & Learning Management


This school administration system is a WordPress plugin that allows you to manage schools. It also makes use of entities such as sections, classes, ID cards, teachers, personnel, noticeboards, and so on.
Using simple shortcodes, you can quickly use this plugin. You may use a shortcode to display the admission enquiry, student login, and fee submission on any page or post.
The various features allow you to add classes and sections, subjects, student admission for classes, and so on. There are further options for roles and permissions, administrative personnel, teachers and accountants, student promotion, and so on.
It also allows you to construct a variety of widgets with different mail layouts and settings. Pages and shortcodes both have choices.
Pros
The plugin is easy to use and install.
It is affordable.
The plugin provides a lot of features that are helpful for managing a school or learning institution.
It is well-supported by the developers.
Cons
There have been reports of the plugin crashing or not working properly.
It can be difficult to learn how to use all the features of the plugin.
Tp Education


The TP Education plugin is the most effective solution to add a large number of custom learning courses to your WordPress site. The plugin has functionality for creating custom post types. Any events, seminars, courses, excursion team, association, and testimonial can be readily added to your site. One of the responsive WordPress e-learning and learning management system plugins is for educational sites and works with the required meta fields. This plugin provides you with the ability to design a variety of theme-based academic courses.
Furthermore, it has a huge number of front-end submission codes. It has a lot of customization and flexibility options. The templates can be readily overwritten.
Pros
Easy to use – the plugin is easy to install and use, even for beginners.
Customizable – you can customize the plugin to suit your needs.
SEO friendly – the plugin is SEO friendly and will help you improve your SEO ranking.
Supports multiple languages – the plugin supports multiple languages, so you can use it in any language you want.
Fast and reliable – the plugin is fast and reliable.
Cons
May not be compatible with your website's theme.
May not be updated regularly, which could lead to security vulnerabilities.
May not be well-supported by the developer community.
Wp School Calendar


WP School Calendar is a simple and responsive WordPress school calendar plugin. This plugin makes it simple to create a school calendar that will appear on the school website automatically. This popular WordPress e-learning and learning management system plugin allows you to quickly construct a beautiful and responsive school calendar without the need for a graphic designer. It's quite simple to use. All you have to do is use the calendar to add a few key dates for when the events' activities will take place. For new students, you can make a registration. There is also a time of orientation for incoming students.
It includes the sources' first and last days. There are options for the midterm and final exams, as well as the publication date and the school vacation time. Support for single and multiple days, as well as key occasions, are among the features. The key dates have their own color scheme. You can also adjust according to the events. It also has a number of other month format possibilities. It allows you to display the previous and upcoming school calendars. The custom language text is supported by this plugin. It also comes with the POT file, which allows for more customization.
Pros
The WP School Calendar Plugin is easy to use.
It is a great way to keep track of school events.
It is a very helpful tool for parents and teachers.
It makes scheduling school events much easier.
Cons
The plugin is not very user-friendly.
It is not always easy to find the right calendar template.
The plugin is not always up-to-date with the latest WordPress releases.
There have been some reports of the plugin crashing websites.
The plugin can be quite slow to load.
Sensei LMS


Sensei WordPress Plugin is a powerful plugin that provides teachers with the ability to create custom lessons, quizzes, and activities with context. This plugin is perfect for use in classrooms, and it makes it easy for teachers to create engaging and interactive lessons.
Pros
Is very easy to use and can be customized to fit your specific needs.
Provides a wealth of data and insights that can help you make better decisions.
Reliable and can be used in a variety of industries.
Affordable and can be used to improve your business performance.
Cons
Customer service is really minimal.
It's been known to crash.
Only free courses are available.
It doesn't work with a lot of WordPress themes.
WPSchoolPress


The Wpschool Press WordPress Plugin is a must-have for any teacher looking to create engaging and interactive lessons. With its built-in features, the plugin makes it easy to create quizzes, surveys, and other forms of assessment, as well as create custom menus and pages for your students. Additionally, the plugin makes it easy to share your lessons with others, making collaboration a breeze.
Pros
Users with certain roles, such as school administrators, students, parents, and teachers, can quickly log in and see their user-friendly dashboards.
Student Attendance Management: Admins and teachers can track the attendance of students in each class on a daily basis. Students and parents can view an attendance report by date. The teacher can additionally include the explanation for each student's absence. When a student is missing, an automatic message is sent to the registered parent with the date, time, and explanation for the absence. Only if the school has acquired our SMS add-on will automatic messages be sent.
WPSchoolPress has made it simple for administrators to create new classes and assign subjects as a student management plugin. Finally, teachers can be managed by assigning subjects and classrooms to them. When parents log in to their dashboards, they may see information about their children such as their class number, subjects, and allocated teachers.
Student Grade Management: As a student report management system, WPSchoolPress has a function that allows administrators and teachers to enter student grades/marks based on their classes and subjects. Teachers can make notes or student reviews on a student's performance in addition to grades. Students' and parents' dashboards will show subject-specific grades. Teachers can import a.csv file with grades and upload them in bulk using our paidImport-Export add-on. Additionally, students and parents can print grade sheets.
School Schedule Management: Teachers and administrators can design test schedules for each subject in their class.
Additionally, upcoming school event plans such as cultural festival schedules, sports tournament schedules, and annual leave management can all be simply prepared. Teachers, students, and parents can be notified of sudden changes in academics by sending email notifications (free) or sending messages through our premium SMS add-on.
Transportation Management: Specifics on public transportation (buses, trams, and schools). Admin can give private transportation, routes, and driver information on students', parents', and teachers' dashboards. Admin can also send notifications to parents via e-mail (for free) or SMS (with the use of a paid add-on) if a driver, transport bus, or route change occurs.
Constant feature updates: These enhancements are based on consumer feedback and feature requests. Any new upgrades and add-ons will be announced on our website.
Cons
It can be expensive
It can be difficult to use
LifterLMS


LifterLMS is a powerful WordPress LMS plugin for creating, selling and protecting engaging online courses and training-based membership websites. LifterLMS is a full-featured WordPress LMS plugin, course builder, and LMS solution that integrates with any well-coded WordPress theme, current WordPress blocks, and all popular WordPress page builders (like Elementor, Beaver Builder, Divi, Gutenberg, etc.).
Pros
Setting up own courses is easy using the drag-and-drop course builder.
LifterLMS includes a lot of video lesson support.
You can choose from one-time and recurring plans, as well as free trials, bundles, private upsells, coupons, and more.
As long as you use a solid LifterLMS theme, the front-end experience for course participants is excellent.
If you only require a single payment gateway add-on, LifterLMS can be inexpensive.
You have membership features built-in, so you don't have to install a separate WordPress membership plugin.
Cons
If you need several add-ons, LifterLMS might be quite costly (instead of just a single payment gateway add-on). The bundles cost $360 or $1,200 per year, which is significantly more than a LearnDash plugin.
Wp Courseware


WP Courseware is an LMS plugin that uses an easy-to-use drag-and-drop course builder to allow both novice and professional users to create online courses. WP Courseware makes creating courses as simple as putting together a keyboard in alphabetical order.
You may create quizzes and courses with this plugin and add innovative elements to make them more appealing. You can sell your courses once you've finished them and start earning passive revenue.
Pros
Drag and drop editor that is simple to use.
Money-back guarantee for 30 days.
Create as many coupons as you want.
Customer service is outstanding.
There are several options for creating a quiz.
It's oozing with content.
There are several instructors.
Cons
For large e-commerce stores, this is not the best option.
The course import process is a little tedious.
There is no option for live video conferencing.
Edwiser Bridge

Edwiser Bridge is the most popular WordPress and Moodle integration plugin for selling Moodle courses online. Is the only WordPress plugin that allows you to integrate the two platforms in a solid and reliable manner. It gives you the tools you need to sell your Moodle courses using PayPal's default payment mechanism.
Pros
You can connect your WordPress and Moodle sites together.
Moodle courses can be imported into WordPress.
Moodle course categories should be synchronized with WordPress.
Set your Moodle courses to draft mode.
WordPress can be used to sell courses and PayPal can be used to collect payments.
Users' enrolled course data should be synchronized.
Cons
It can be time-consuming to set up and configure.
It can be difficult to get accurate readings from the sensors.
It can be difficult to find compatible sensors.
It can be difficult to get accurate readings from the sensors.
It can be difficult to find compatible sensors.
CLUEVO LMS, E-Learning Platform


CLUEVO LMS is a free WordPress plugin that allows you to install a learning management system on your site. It's a great way to incorporate SCROM e-learning modules, podcasts, video tutorials, and other types of media into online courses.
This plugin allows users to organize online courses in a logical manner by dividing them into chapters and modules. It's a lot easier to handle access permissions for different user groups.
Pros
User Management: This plugin categorizes users' access permissions into three categories: no access, limited access, and full access.
Progress Reports: This plugin's reports can be used to track the performance of users you've created. It also provides SCORM parameter statistics.
Competence: This feature allows you to specify the competency area as well as the number of competencies inside it.
Pricing
This is yet another plugin that provides its services for free. Users have access to all features and can use them on an unlimited number of sites.
Multiple languages are supported, as well as SCORM 2004 4th edition.
Cons
Customer service might be better.
Namaste! LMS


Namaste! LMS is a great way to start building a learning management system since it allows you to add an unlimited number of lessons, courses, assignments, and students. It also allows customers to define custom rules for providing access to classes and courses based on their needs and requirements. Admins can also assign users to different roles based on their level of interaction with the system.
Pros
Easy to Create Course: It allows users to quickly and easily create a course, just like a typical article on the WordPress website.
Premium Shopping Cart: This feature allows users to offer subscriptions, courses, or anything else they want to sell and receive compensation for each sale.
Grading System: This plugin provides students with grading and point systems based on their performance.
Along with the free version, this plugin offers three subscription plans that grant access to additional features such as assigning an instructor to a specific course, reordering classes and courses, and a shopping cart, among others. The most basic package costs $67 per year.
It's compatible with other plugins.
Easy to use a certificate system
Cons
MasterStudy LMS


MasterStudy is an all-in-one solution for creating feature-rich educational websites. Any WordPress website may be transformed into a professional online platform that includes all industry-specific e-learning and LMS capabilities with the LMS plugin. It gives you the tools you need to make and sell online courses. This WordPress LMS Plugin includes all of the necessary tools for organizing courses, quizzes, and educational content in a Learning Management System (LMS). It aids in the sale of courses, the creation of lessons, and the delivery of online education services.
Pros
Constructing Quizzes: This feature allows users to design quizzes for a certain lecture or course with a single choice, multiple choices, true and false options.
Creating Classes: Different types of course lessons, such as video, text, and slide lessons, are simple to produce.
Comment Systems: This plugin allows students to make comments and ask questions of the teacher during the lecture.
The free edition is sufficient for integrating a basic online course system; but, if you want advanced features such as tests and the ability to import lectures from other platforms such as Udemy, Grade Books, and others, you must upgrade. Premium plans start at $39 per year and go up from there.
A quiz's real-time countdown timerCons
It's possible that it'll conflict with other plugins.
WP Courses LMS
WP Courses LMS is another popular WordPress plugin that allows users to integrate their courses in a simple and user-friendly way that was previously impossible with any plugin. This plugin includes a number of tools with drag-and-drop functionality, as well as video tutorials. This plugin is designed to work with almost any theme, regardless of category. It comes with a variety of design possibilities from which you may choose the one that best complements the look of your website.
Pros
Progress Tracking: It's ideal for keeping track of pupils' progress using various icons and progress indicators. This strategy is useful for increasing student interest and engagement.
Restrict Lesson Content: It allows users to restrict logged-in users' access to specific lesson content by simply pressing a single button.
Create Any Type Of Lesson: This plugin works with a variety of lesson formats, including videos, photos, audio, and more. Additionally, the ability to incorporate movies from a third-party platform distinguishes it from the competition.
The free version, on the other hand, is quite helpful to users. A paid edition is available if you want to use some additional features like lesson attachment, quiz creation, woo commerce integration, and a few others. It is available for $79 each year.
It is mobile-friendly.
A builder that you can drag and drop
It does not necessitate any form of coding.
Cons
Expensive in comparison to the features provided.
BadgeOS


BadgeOS is a plugin that can help you include gamification into your teaching. Create assignments, award points, display leaderboards for your top students, administer badges for specific levels, and much more with this free plugin. Badges are a terrific way to motivate your pupils to learn and finish their assignments by rewarding them with them.
Pros
Create varied learning groups
Show a visual progress map that shows achievements and goals.
When certain milestones are reached, a pop-up congrats menu appears.
Other plugins, such as LearnDash and Sensei, can be integrated.
Cons
It can be difficult to get started if you are not familiar with coding
It can be difficult to find help when you need it
There can be a steep learning curve if you are not familiar with coding
It can be difficult to find compatible devices
It can be difficult to keep up with the latest updates
Bbpress

Bbpress is a plugin for WordPress that allows you to create a forum on your website. It is very customizable and easy to use. You can create forums for specific topics, or allow users to create their own forums. Bbpress also includes features for moderation, spam prevention, and user profiles. You can invite members to create a classroom forum using the bbPress plugin, where they can debate topics like class assignments, assigned reading, and book reviews.
Pros
bbPress is a free open-source program that you can use as much as you want.
It's simple to use. Any WordPress theme can be easily integrated.
Maintain a coding standard similar to WordPress.
Lightweight and quick.
More than 300,000 users love it all over the world.
It may be managed from a single dashboard and used on various sites.
It features over a hundred extensions to allow for additional customisation.
Cons
It only allows for the most basic functions, therefore you'll need to install additional extensions to get more functionality.
Academy LMS


Academy LMS seamlessly connects with your WordPress site and makes it simple to build courses and lessons. With the admin SPA and frontend SPA (Single Page Application) interfaces in Academy LMS, you can effortlessly create and change any course or lesson. Although Academy LMS is free, you can use Woocommerce to offer your premium courses. This WordPress LMS Plugin is really lightweight and performs extremely well.
Pros
The Academy LMS is well-designed.
It enables people to respond to their interests in a timely manner.
As of today, the Academy LMS is performing well.
Academy LMS Support is fantastic and really helpful.
It is necessary to try good software.
Cons
The plugin is not very user-friendly.